Today's post is brought to you by the A of ALJ. A guest post from this awesome lady has been a long time coming, and I am so psyched to bring it to you on the month of loOoOove!
Abby is a co-creator of the blog MyLifelines (https://mylifelines.co/). MyLifelines is a Women Empowerment and Lifestyle blog. Each week they highlight a badass business woman as part of their Women Wednesday (https://mylifelines.co/women-wednesday/) series. Make sure to check them out!
---
T minus one week and one day until Valentine's Day and I am stupidly excited!! I'm buying little goodies for all of my coworkers and then heading to Atlanta, Georgia to meet up with my best friends for the weekend! I am single and, weirdly, I think I'm more excited to celebrate because of that.
I don't think Valentine's Day should only be celebrated by those in a relationship. I think the day is about showing those you love that you love them. And, we should all be loving on ourselves – so use the day to do that! I wrote a post about how to celebrate VDay when you are single, so give that a looksie if you want some fun ideas!
So, as in many cases, I turned to Twitter to ask the birdies if they celebrate VDay and here were the results:
— ALJ💕 (@my_lifelines) January 31, 2019
To my utter dismay, 64 people said they hated it. 😦 I am sure some of those respondents don't HATE it, as I did receive quite a few comments saying they wish there was an "indifferent" option. But STILL. So, I am writing this post in hopes I can change your mind. Actually, it's okay if it doesn't. I accept your opinion. It just might not be for everyone. But, this is why Valentine's Day and other over commercialized holidays are my FAV!
Holidays are in-your-face reminders to tell your loved ones that you love them and are grateful for them. Many people say they don't need just one day to celebrate their love because they do it all year… BUT DO YOU REALLY?? Now, I'm not saying you don't love the person you are with all year round, but do you specifically tell them you love and appreciate everything they do each and every day? I feel like that would be a lot. Holidays, to me, are a reminder that we made it to another milestone with the people we love and we should appreciate the heck outta it.

Another reason for a cute ass outfit?? Oh, OKAY. Who doesn't want to have a reason to go shopping or get all cute looking? This goes along with my self-care February, but sometimes we forget to take care of ourselves. In the infamous words of Donna and Tom: "Treat Yo'self"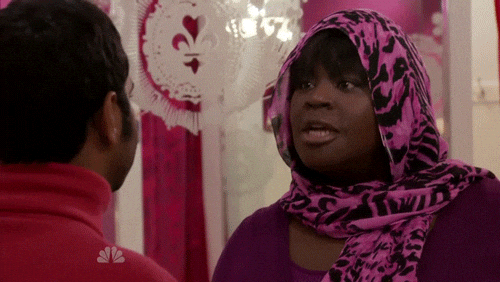 There is almost one holiday every month, and I believe we should be making sure we are treating ourselves once a month… so the timing kinda just works out PERFECTLY.
3. Alright, alright… maybe one other reason I love over commercialized holidays is because I am a marketer. And well, damn, if holidays aren't the best time to show off all your new, fancy sh*t, then when is?! On the flip side, as a consumer, I totes want to see all the pretty, new things because again, "TREAT YO'SELF!" There are usually sales or new products that you or a loved one just NEED TO HAVE. So, yay!!
4. It's a day to be my most obnoxious self and have an excuse for it. I love bringing balloons and candies to work and dressing up in wild colors and wearing little heart ears. My coworkers seem to judge me when there isn't a reason behind it… But, on special days, I can bring in VDay cards or pumpkins full of candy or a live Turkey for Pet a Turkey day (okay, kidding on the Turkey, but you get the jist!)
5. Last, but not least, holidays are a celebration of you. You made it to another holiday. You are strong, brilliant and in one piece. Getting through each day can be challenging. How often do you reward yourself for it? You should every day! But, like celebrating love and practicing self-care, love and praise for yourself can sometimes be forgotten. So, you made it to another holiday and you kicked ass the whole way there. Go you!!
I am constantly grateful and appreciative of the people I have in my life. I know I couldn't have gotten to where I am now without my family and friends and myself. I try and tell them that as often as I can, but on holidays I do it up!! I have also been single for so long and spent so many holidays (especially Valentine's Day) feeling sorry for myself. Like, woe is me. But why? Being single means learning more about myself, appreciating myself, AND spending more on me and less on boyz. LOL!
I understand you may see holidays as businesses and marketers just using and abusing the day, but instead try to see the good in it. Try and remember the day is there for you to give some extra love to all of those around you. So maybe you do spend the whole year giving love to your sig. other, but do you remember to give it to your gals pals and your fam?
When we work on seeing the good in things, it brings us more joy. So give it a try this year! ❤
---
You can follow these awesome ladies on their blog, Instagram, Twitter, and Pinterest! 
Photo by Denise Johnson on Unsplash