Some of these items were given to me on a gifted basis in exchange for a review.
---
Now that January is over we can step right back into reality. We've had our health kick, you've eaten all your kale (or whatever healthy people eat), now what time is it? Oh, yea…
It's time to…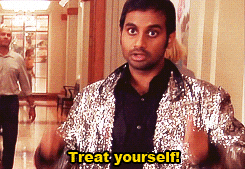 Or someone else! After all, one of the most celebrated, yet dreaded days of the year is coming up. And for those who are in it just for the sweet stuff, this one's for you. One of the best ways to celebrate this day, or any day, is with one of Lav's favourite mantras: the best form of self-care is eating all chocolate in sight. 
One of the best gifts you can give to someone is the gift of food, and you can't really disagree with me here. But what kind of food is the best food? I'd say, the sweet stuff. Marshmallows, bubblegum ice cream, chocolates, they're all a gift to this world and an even better gift for the people that you love!
Here are my top 3 personalised edible sweet stuff ideas for this Valentine's day. For you, for your partner, for your cat, for anyone!
Personalised Cakes
I was so lucky to have been sent this Pugs and Kisses cake from Baker Days to review as a Valentine's Day gift. I was so excited when it came! It came in a really nicely packaged parcel box, and I was even more impressed when I opened it.
It came in a small tin – which Tomas told me to keep for his sewing stuff.
The more I unpacked it, the more excited I got. Within the box was the tin, and from the tin was a thin sheet of paper, and on top of that paper was another piece of paper saying "pull here" – I don't think I'd ever been more excited to open a cake before.
They definitely got the build-up right and it's something I would absolutely love as a gift.
This slideshow requires JavaScript.
The presentation was just as they described, it was a beautiful little cake with kissing pugs on it, and the text with the personalised name on it. My parent's "aw'd" so much. So did I. 
The taste was also lovely! It was rich and chocolatey- it had some chocolate chips in there. Obviously, there is a lot of icing, so if you're not a big fan of icing you may not want to eat the pugs so much… But for the design and the personalisation, it is definitely top notch! 
You can see all of Baker Days Valentine's day designs on their Valentine's Day section!
Personalised Sweet Jars
I am also a big fan of the simpler things, those things that we could have made… But just… Didn't. These personalised Valentine's Day sweet jars from Jubbly Jars are exactly that. You can add a picture of your own on the top of the lid so it can be made for anyone! And you'll get all the pink sweets of your dreams.  
The amazing thing about sweets, and personalised sweets, is that anyone can get them for anyone. Don't fall into the trap of thinking Valentine's Day is just the day for romantic love! Get your chocolates and love YASELF and everyone around you. Chocolate is easy to share. Sometimes.
---
This post has been part of the 14 day Valentine's day blog countdown! Here are the other bloggers who are taking part and what you can expect from each of their posts!
Day 1 – Connie – Date ideas for Valentine's Day
Day 2 – Deanna – Valentine's Day Makeup & Outfit inspiration
Day 3 – Lavrax Edible personalized gift ideas
Day 4 – Megan Valentine's Day Ideas for Singles
Day 5 – Macey  The Origin story of Valentine's Day
Day 6 – Rach Valentine's Day ideas for the family
Day 7 – Molly Valentines cupcake recipes
Day 8 – Shealea Sapphic romances that'll make your heart soft on Valentine's Day
Day 9 – Kerry Valentine's gifts for travelers
Day 10 – Vicky Unconfirmed
Day 11 – Divine The Perks of Dating a Mood Reader
Day 12 – Soph Valentines Day gifts on a budget / for students
Day 13 – Koral Valentines Day and Mental Health
Day 14 – Taiwo How to enjoy Valentine's Day alone