Trigger warning: In this post I discuss murder and sexual abuse. 
---
Now that my favourite time of the year has arrived I am ever so slightly less ashamed of letting my love for true crime and creepy murder stories shine through all my pores! 
Listen, we can all admit it, murder is interesting. The sick and twisted things that people do, why and how they do them is a mystery that all of us seem to ponder every once in a while.
Unless you're like me, then it's for multiple hours a day and you're guzzling it down like the coffee you actually just guzzled down to stay awake. Well, I'm glad you're awake and here because here comes your daily dose of true crime to keep you up for even longer! 
Recently I have seen it become more acceptable to openly talk about… So here are some of my favourite cases, of which some you will most likely know of. I'm going to give you my own brief description of it from memory, (don't worry I'll also do some fact checking), tell you what I love about the case, and then something that stands out from it! 
---
JonBenét Ramsey
Ok so here's  the tea: 
JonBenét Ramsey is a 6-year-old girl when she is found dead in her basement wearing a white dress on Christmas eve 1996. 

She appears to have died from head trauma. 

Before JonBenét is found she was reported missing by her mum, Patty Ramsey, to the police claiming "we have a kidnapping". 

This kidnapping story is supported by the fact there is a 2-page ransom letter found on the staircase leading to the basement. 
What I love about this case: 
The ransom note – who doesn't love a good ransom note? From the amount of documentaries that I've read, here's where it's at – it is suspected that Patty Ramsey wrote it. The ransom note matched her handwriting, the fact that it was 2 pages long shows that there had to be planning behind it, the wording used was very maternal, and it had information so 

specific

 that it could have only come from inside sources – for example, how much JonBenét's dad earned in bonus that year.

Burke Ramsey. Burke is JonBenét's older brother whose role in this whole charade is just too much! He is strongly suspected by a multitude of people of being guilty of killing JonBenét with a torch to the head. A lot of people believe that this may have been an accidental death, which may be why the parents tried to cover up – explaining Patty Ramsey's Ransom note. There is also such an uncomfortable video of Burke being questioned about his sister's death. 
What stands out to me from this case: 
There are way too many things about this case that just absolutely blow my mind! The pineapple, the torch, the brother, the bed wetting, the pageantry, the false confessions, the mum, the dad, Burke's suspicious behaviour, the interviews that went on for years and even decades after. There is simply too much.
If you're like me and you're completely obsessed with this case please come and find me so we can talk about it for the rest of our lives.
---
The Menendez Brothers Case
Ok so let me just, first of all, introduce you to Erik Menendez 
The ultimate hotty of the murder world. 
So he actually has a brother, Lyle Menendez, and here they are side by side.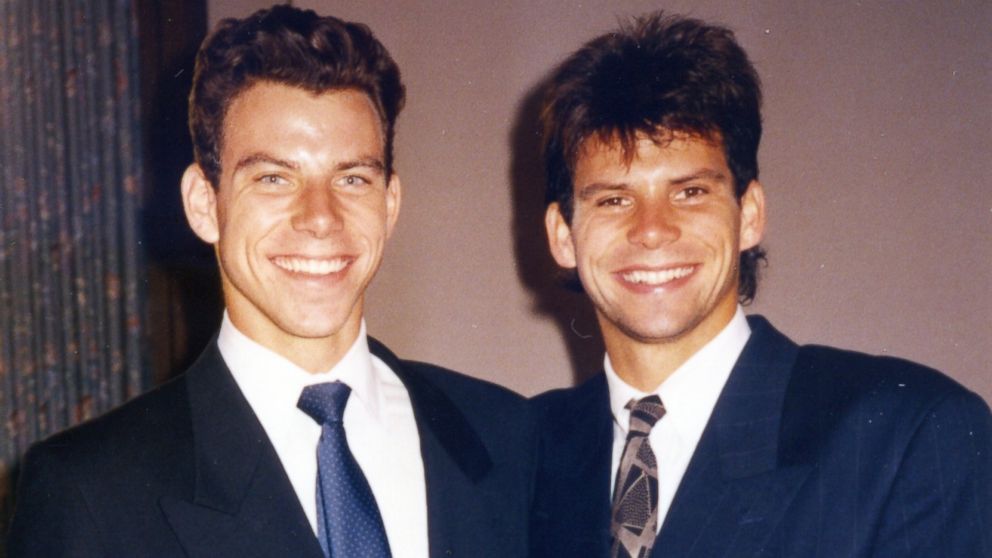 No that we have looks out of the way. Here is what they did: 
Erik and Lyle Menendez
murdered their parents in their home in California.

Were two rich kids, and they were suspected to have murdered their parents in order to inherit their wealth.

Originally they were not suspects, and it was after their reckless spending of the wealth that they inherited that it all came crashing down for them. 
But here is why:
During their trial, they revealed that their father had been sexually abusing them from a very young age. The abuse was ongoing, and it was brutal. Their mum apparently turned her head at this abuse. This led to Lyle eventually also abusing his younger brother Erik, which also comes out during the trial.
What I love about this case: 
THE TRIAL!
This has been one of the hardest trials to watch and even with its disgustingly graphic description of the sexual abuse, you cannot look away.
This video clip is Lyle Menendez describing in gory detail the abuse that he endured from his father. There are so many videos from this trial, I highly recommend them if you have a strong stomach and can't get enough of true crime. 
The thing I love most about this trial is its rawness of emotion. During trials, you can generally often see the offenders getting highly emotional. See, Erik and Lyle are on a different level. All the aspects of their story require such strength for them to talk about and you can see it in their faces as well as hear it in their voice. 
Something that stands out to me from this case: 
Even incarcerated the brother still found love and managed to get married. So it's probably not just me who doesn't blame them for murdering their parents… I mean, sometimes you need to see what created these monstrous acts. A dad severely sexually assaulting his two sons seems like something to break any person into insanity. 
---
Jasmine Richardson
This was my first official murder story that I became so interested in! This is Jasmine Richardson 
It's a good one… And here is what went down:
Jasmine planned and executed along with her boyfriend the murder of her mum, dad and little brother. 

The mum and dad were the first to be murdered in her basement by her boyfriend. 

They later went back for the little brother who was 8 years old, as he witnessed the murder of his parents and they couldn't let him go. 

The murder was discovered by a little boy who had come to play with the little brother the next morning. 
What I love about this case:
Jasmine had actually met her boyfriend in a chat room and he was 22 when she was only 12! 

Jasmine was actually not into anything dark or gothic before her boyfriend, she started to switch to this lifestyle because of him and boy did that goth phase go bad… Never complain about the bad haircuts, at least your 300-year old werewolf boyfriend didn't murder your whole family!

Her boyfriend also claimed and believed he was 300-year old werewolf 

They both planned to murder her family and run away together. They searched Jasmine's locker at her school and found a drawing – I believe I found the drawing…
So they were actually planning to set the house on fire
What stands out to me from this case: 
The fact that while her boyfriend was murdering her mum and dad, she sat with her little brother comforting him… and then returned to kill him. 
This story honestly makes me a little sick yet I am still so interested in the dynamics of it. Anyone else? 
---
Richard Speck Murders
Last but not least… That guy who murdered all of those nurses, apart from the one that survived!
Here is what happened 
Speck snuck into a dormitory of student nurses where he gathered them all in one room

He held them captive in that room, and one by one he took them out into the different rooms in the dorm

He raped, killed and tortured them one by one

One nurse managed to hide under the bed while he was out of the main room and she was the only one to survive 
What I love about this case:
There's something about the only photos I can find about the case being in black and white… So it happened in 1966 which means the photos there are on it look like this… (A picture of the crime scene)
During the trial, the surviving nurse was an absolute badass. She was unafraid of him and was so determined to send this asshole to jail. She looked him right in the eye to confirm his identity, and I cannot believe her bravery. 

From watching the follow up interviews, he was a really weird guy. Apart from being an absolute evil psychopath, this interview here kind of highlights him as a person, someone very sick and creepy indeed. 
What stands out to me from this case: 
So this is a little gross, but at this point, I can divulge anything to you. So when the police arrived, the floors of this dorm room were apparently flooded with blood. This image in my head is one that I just cannot get out. The insides of all 8 nurses that he raped, tortured and killed were just spilled all over the floor of their former home. 
---
Ok I genuinely enjoyed that too much… I'm going to need to make this into a series or a theme for my blog! True crime Tuesdays? Murder Mondays? Dahmer days? I'm going to have so much fun coming up with these! If you have any clever ideas for it, let me know!
Thank you so much for reading, if there are any more true crime enthusiast bloggers please let me follow you!
What is your favourite true crime case? Let me know in the comments so we can freak out and bond over them together like completely normal people… 
For the 4th day, STAY SPOOKY!